If you are accused of a white collar crime, the penalties can be severe. In order to protect yourself, you need an attorney who understands financial crimes, and who has the experience to spot and exploit weaknesses in the government's case.
While most of the news centers on street crime, prosecutors are focusing more and more on targeting economic crimes. Individuals and corporations are under increased scrutiny concerning their financial dealings, and the spotlight is on internet crimes, various forms of fraud, and other non-violent offenses. Austin criminal attorney Matthew Shrum understands the nature of economic crimes, and he has the experience to help. Call for a free consultation.
Classification of White Collar Crimes in Texas
While there is no precise definition of "white collar crime," the term is generally reserved for non-violent crimes, and crimes that are not drug-related, where the goal is financial gain. In some cases, the classification and the penalty in some cases will be determined by the value of the property involved. In others, the particular conduct alleged may determine the potential penalty. The following are some of the more commonly charged white collar crimes:
Internet Crimes. Internet crimes include not only computer hacking, but also a host of other activities that are accomplished through the use of the internet. White collar computer crimes often involve online fraud. If a breach of computer security is involved, the offense will be a felony, the level of which will depend upon the amount involved. In other cases, they could be charged as either a misdemeanor or a felony, based upon the amount involved and the nature of the underlying transaction. Finally, online impersonation with intent to harm or defraud is also a crime in Texas.
Identity Theft. The primary identity theft provision is section 32.51 (Fraudulent Use of Identifying Information). It applies in a wide variety of situations in which the identifying information of one person (name, date of birth, social security number, bank account number, etc.) is used by another, without authorization and intending to cause harm or to defraud. The offense is always a felony, the level of which is a function of the number items involved.
Forgery. Under Penal Code section 32.21, it is unlawful to alter, create or sign any document that purports to be authorized, properly executed, or an exact copy, with the intent to defraud or harm another person. Forgery is generally a class A misdemeanor, but where certain forged documents are involved, for example wills, deeds, and a number of others, it is classified as a state jail felony. In addition, forging some government documents is a felony of the third degree. And where the victim is elderly (65 years of age or older), the classification will be increased by one level. As a result, depending upon the particulars of your case, you could be facing less than a year in jail, or up to many years in prison.
Embezzlement. Texas Penal Code section 31.02 has consolidated many theft offenses, including embezzlement. The difference between the common theft and embezzlement is the manner in which the property, or money, comes into a person's possession. In an embezzlement case, the person lawfully acquires possession of the money or property, and the crime occurs when that person converts it to his own uses or account. In most cases, embezzlement is classified according to the amount of money or the value of the property involved.
Securities Fraud. Although most securities law violations are handled at the federal level, it is also an offense under Texas law to engage in any fraudulent practices (including making material misstatements of fact) in connection with the sale or solicitation of securities. Securities fraud is a felony.
Bank Fraud and Credit Fraud. These are terms that relate to making a false statement to obtain, among other things, a mortgage loan, property or services on credit, a line of credit, or a credit card. The penalties are a function of the amount of property (or credit) involved.
Credit Card Fraud. This is known in Texas as credit card or debit card abuse. PC section 32.31. The basic offense is using a credit card knowing that it is not yours and is being used without authorization, or that the card has expired or been cancelled. There are also related crimes including stealing a credit card, using a fictitious credit card, purchasing a credit card from a person who does not own the card, etc. Credit card theft is generally a state jail felony, although it is a third degree felony if the victim is an elderly individual.
The above list is just a sampling of the many white collar crimes under Texas law. Commercial bribery, bad checks, Ponzi schemes, bid rigging, deceptive business practices, Medicaid fraud, money laundering and insurance fraud are additional examples.
White Collar Crime Lawyer Austin – Travis County White Collar Crime Charges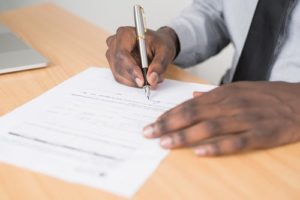 Financial crimes do not fit into a neat category, in the sense that there is one scenario that fits all. The range of the offenses, the subject matter, and the methods of accomplishing the offenses, are wide-ranging. Nevertheless, they do tend to have certain things in common, including a paper trail consisting, at least in part, of financial records. Successful defense of economic crimes requires the ability to understand and analyze those financial documents. And while many criminal defense lawyers may do a creditable job cross-examining a witness to an assault, it is quite another thing to be able to elicit testimony from an accountant, a bank officer or a financial consultant.
Austin criminal defense attorney Matthew Shrum is dedicated to providing outstanding legal representation to those who have been charged with criminal offenses. When it comes to white collar crimes, Mr. Shrum will provide you with a realistic evaluation of your case. He will also review the information from law enforcement, determine whether additional investigation or expert testimony is necessary, and take any and all action necessary for your defense.
If you are facing a white collar criminal charge, call us today for a free consultation.