Weapons Offense Attorney Austin – Travis County Firearm Charges
The variety and complexity of gun charges and other weapons charges can be confusing and overwhelming. If you are facing a weapons violation of any kind, this is not the time to try to deal with it without help. You need an experienced weapons crimes lawyer to guide you through the process. Matthew Shrum will review the prosecution's case, investigate the facts, and guide you through the process of mounting a defense to the charges. He will provide you with the benefit of his experience and formulate an intelligent and realistic strategy to protect your interests.
There are a number of categories of weapons crimes in Texas. They include prohibited weapons, unlawful carrying of handguns and other weapons, crimes related to where you possess a weapon, status offenses that make it illegal to possess a weapon because of who you are, and the illegal transfer of weapons, among others. These crimes have different elements, and each has exceptions, sometimes following by exceptions to those exceptions. So if you have been charged with a weapons crime, the first step is to find the right attorney. Call Mr. Shrum today to arrange for a free consultation.
Weapons Prohibited in Austin Texas
Unless you fall within a specific exception, it is illegal under any circumstances to possess any of the following (PC 46.05):
Explosive weapons. This includes bombs, grenades, rockets, mines, and other devices.
"Knuckles." Includes finger rings and guards used to inflict damage when striking a person with a closed fist.
Machine guns. Any gun capable of firing more than two shots without reloading, by a single pull on the trigger.
Short-barrel firearms. Rifles and shotguns under certain lengths.
Designed to muffle the sound of a firearm.
Armor-piercing ammunition. Ammunition for a handgun that is designed primarily for the purpose of piercing body armor or metal.
Chemical dispensing devices. Dispenses chemicals capable of causing physical or psychological harm.
Zip guns. This is simply a gun originally designed as something else, but adapted to operate as a firearm.
Tire deflation devices. Spike strips and similar devices.
There are a host of exceptions to these rules. But if no exception applies, most of these are felonies of the third degree.
Unlawful Carrying of Weapons
Under section 46.02 of the Texas Penal Code, it is a crime to carry certain weapons, regardless of whether the item itself is a prohibited weapon. Specifically, it is illegal to knowingly, intentionally or recklessly possess a handgun, an illegal knife (knife longer than 5½ inches, and others), or a club (blackjack, nightstick, etc.) if you are not
On your own property.
On property you control (for example, your place of business).
Inside of or directly en route to your vehicle or boat.
In the case of a handgun, even if it is in your vehicle, for example, it is still a crime to possess it
if the handgun is in plain view, or
if you are engaged in criminal activity, or
if you are a member of a criminal street gang, or
if you are a prohibited possessor.
Prohibited Possessors
Some weapons crimes exist not by virtue of the weapon itself being illegal, or by the place or manner in which you carry or possess it, but rather by your status. Under section 46.04 of the Penal Code, possession of a firearm is prohibited by the following classes of people:
Convicted felons. It is a felony to possess a firearm prior to five years after being convicted of a felony, or after release from supervision (parole, community supervision, or mandatory supervision), whichever is later. After five years, it is a felony to possess a firearm anywhere other than at the place where you live.
Persons convicted of misdemeanor domestic violence assault. If you have been convicted of class A misdemeanor assault against a member of your family or household, you are prohibited from possessing a firearm prior to five years after the date of the conviction, or your release from community supervision, whichever is later.
Persons who are subject to the terms of a protective order issued under the Family Code. It is an offense to possess a firearm after receiving notice of the existence of the protective order.
More Weapons Crimes
There are many more laws dealing with weapons and weapons offenses. They include unlawful carrying of a handgun by a license holder, possessing certain weapons on school premises and in other enumerated places, illegal transfer of a handgun or ammunition, and others. Finally, there are crimes that exist independently of the possession or use of a weapon, but which carry enhanced penalties if a weapon is involved.
Contact Our Weapon Crimes Attorney in Austin To Deal With Firearm Charges in Travis County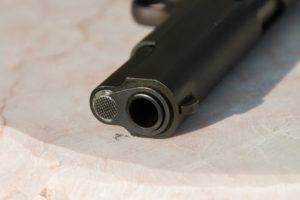 The range of weapons laws is substantial. Many of these offenses are felonies, and carry severe penalties in the event of a conviction. If you are facing a weapons charge, call the Law Office of Matthew Shrum. We'll use all our experience and skills to make sure you are provided with a thorough and effective defense.