Traffic Ticket Lawyer in Austin – Travis County Ticket Attorney
Have you received a ticket for speeding, running a stop sign or a red light, or another traffic offense? You might be asking yourself why shouldn't you just pay the ticket? Why spend the money for a ticket attorney? Isn't that just throwing good money after bad? The bad news is that a traffic ticket can cost you a lot, and handling it yourself could take hours of your time and require you to miss work or school. The costs could include thousands of dollars in higher insurance premiums, points on your driver's license, and a ticket could place your license in jeopardy. So while it may seem like a good idea in the short run to pay the ticket (or to try to deal with it on your own), the ramifications could be huge, and you could continue to feel the financial impact for years.
The good news is that an experienced traffic ticket attorney in Austin can help. The mere fact that you received a ticket does not mean you are guilty. So whether it's a speeding ticket or other moving violation, a registration or insurance issue, or a similar charge, there are defenses that can be raised, and negotiations could lead to a reduced charge or reduced penalty. Call Matthew Shrum today to discuss your traffic case.
Traffic Violations in Austin
Not all traffic violations are the same. While most traffic charges are class C misdemeanors, some are more serious – and carry more serious penalties – than others. Many of the violations are covered under Chapter 545 of the Texas Transportation Code. Here is a list of some of the more common traffic offenses:
Reckless Driving.
Running a Red Light or a Stop Sign.
Stop Sign Violation.
Racing on Highway.
No Insurance or Failure to Maintain Financial Responsibility.
Expired Registration.
Driving While License Suspended or Invalid.
Improper Passing of a School Bus.
Failure to Stop and Render Aid or Leaving the Scene of an Accident ("Hit and Run").
A conviction for these offenses will be a part of your driving record, will cost you money, and could affect your driving privileges.
Failure To Appear/Pay
Whatever violation you may be facing, the worst thing you can do is to ignore it. If you fail to appear in court when required, or fail to pay your ticket, a warrant could issue for your arrest, and another charge of failure to appear or bail jumping could be filed against you. Pretending the incident never occurred will only make matters worse. If you believe a warrant has issued for your arrest for failure to pay/failure to appear, call Mr. Shrum immediately. It may be possible to have the warrant lifted before it becomes an even bigger problem.
Penalties For Traffic Violations in Austin
The penalties for traffic violations vary greatly, and there is no precise formula that will tell you, in every instance, what the fines or other consequences may be if you are found guilty. Penalties could range from a relatively small fine, to thousands of dollars in surcharges (continuing for years), to license suspension. The Texas Department of Public Safety assesses surcharges in two different circumstances: first, where you have accumulated six or more points during the preceding three years; and second, if you are convicted of specific offenses (DWI, driving without a valid license, and others). The factors involved in determining the particular consequences in your case will also depend upon:
The offense charged. Traveling at a high rate of speed (more than 10 miles of the speed limit, for example) will ordinarily carry a higher potential penalty than for rolling through a stop sign.
Your driving history. The particular offense you are facing could be a minor one, but if your license already has points, it could bring harsher consequences than otherwise might apply to the offense.
Where the violation took place. Penalties differ from county to county in Texas. What might be standard for a particular ticket in Travis County, may not hold true in another area.
In some cases you may be eligible for deferred adjudication on class B or class A misdemeanors such as reckless driving, failure to stop and render aid, and leaving the scene of an accident. Deferred disposition may be available on class C traffic tickets.
Deferred Disposition
Deferred disposition is offered by a prosecutor and must be approved by a judge. It is a procedure that allows your case to be dismissed and the charge to be taken off your driving record if you are not convicted of another offense within a certain time period, usually either 90 or 180 days, provided you comply with certain conditions that are negotiated with the prosecutor. Those conditions include the amount of the fine, whether you must complete a defensive driving or driver safety course, and whether you must maintain and show proof of valid insurance during the term of the deferred disposition.
Commercial Drivers License
The consequences of a traffic violation are much more serious when you hold a Commercial Driver License (CDL). In the first instance, if an offense leads to the loss your license, it will be more than a major inconvenience. It will threaten your ability to make a living. In addition, there are specific offenses for which a conviction can lead to a license disqualification not applicable to those holding a standard driver's license. They include:
Leaving the scene of an accident (hit-and-run). Disqualification for between one and three years.
Alcohol offenses. Disqualification for between one and three years. Lifetime disqualification for second offense.
Serious traffic violations. Disqualification of 120 days for reckless driving, excessive speeding, following too close or tailgating, and others.
Because of the increased penalties, CDL drivers are at even greater risk even if they are charged with a minor traffic violation.
Speak With a Ticket Lawyer in Austin, Texas Today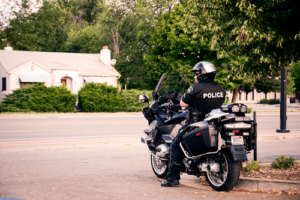 Although resolving a traffic ticket quickly by simply pleading guilty and paying it may seem the easiest way out, that course of action may well be 'penny wise and pound foolish." You could be under the false impression that the situation will be completely resolved once you pay the ticket, only to find out later that the financial burdens are much worse than you anticipated.
At the Law Office of Matthew Shrum, we will fight to insure that you are protected. Call us today for a free consultation, and let us handle your ticket for you.